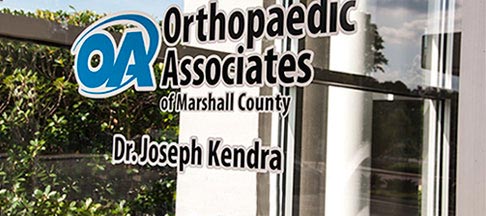 At Orthopaedic Associates of Marshall County, patients benefit from more than forty years of experience in applying both surgical and nonsurgical techniques to treat musculoskeletal trauma, injuries, degenerative diseases, infections and congenital disorders.
Dr. Joe Kendra and Dr. Donald Martin are certified by the American Board of Orthopedic Surgery, and they are committed to providing timely, high-quality care for their patients. Specialties include treating arthritis of the adult hip and knee, arthroscopic surgery, foot and ankle surgery, general orthopedics, hip replacement surgery, reconstructive knee surgery and total joint replacement surgery.
With locations at both Marshall North and South, Orthopaedic Associates provides a convenient solution for any orthopedic surgery needs. Our experienced staff of healthcare professionals looks forward to serving you and your entire family.